Discover 5 places to visit in Santa Marta. This city is well known for its beautiful beaches. Of course in this blog we are going to name the ones we recommend the most. But in addition to these, Santa Marta has many eco tourist and historical places that we recommend you to visit.
The Historic Center

The center of the city is surrounded by charming colonial style buildings. There you can also find the city's cathedral which was the first one built in South America. Walking around the center you will also find the Parque de los Novios, the Tairona gold museum, the San Juan Nepomuceno Cloister, among others. Finally, do not hesitate to look for a hotel or hostel in this area of the city that has a great variety of options for your accommodation.
La Quinta de San Pedro

If you wish to continue visiting historical places this is a great option. The fifth is known for being the place where the Liberator Simon Bolivar died. In this hacienda you will find beautiful architecture, charming gardens and imposing trees, and a lot of history to learn.
Lost City
One of the places we recommend the most. There is no doubt that the magic you can breathe in Ciudad Perdida is unbeatable. There you can meet and live with the indigenous communities of the region, as well as observe and enjoy unique and charming landscapes.
To go to Ciudad Perdida you must take a tour with an authorized agency, this tour can be done in 4 or 5 days. But we assure you that all the way will be worth it.
You should read: Discover Ciudad Perdida with local guides
Minca
This town is called the Ecological Capital of Colombia. It is located about 40 minutes from the center of the city. There you can visit places like the Marinka waterfalls, the blue well, the pine tree viewpoint, take a coffee or cocoa tour, do bird watching, among other activities.

You may be interested in: Visit Minca Colombia What to do? Where to go?
Beaches
As promised! Santa Marta has very beautiful beaches, impossible to choose our favorite. Some of the ones we recommend the most are: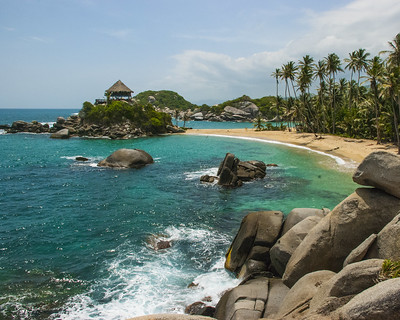 Playa Cristal:
It is one of the beaches of the Tayrona Park, it has beautiful crystalline waters, there you will have the opportunity to snorkel and spend a very pleasant day. You can get to this beach by taking a tour with an agency.
Cabo San Juan del Guía:
Cabo San Juan is one of the beaches most beautiful of Tayrona Park. You can get there by taking a tour or by yourself by taking a bus. When arriving at the entrance of the park you will have to make a walk of about 2 hours. In Cabo San Juan you can find lodging services if you want to spend the night and also restaurants.
Playa Blanca:
This beach is very easy to reach from El Rodadero by boat. It is very beautiful with crystalline waters and white sand. You can spend the day in this beach and it has restaurant services where you can eat some typical dish of the sea.
And the list of beaches can continue, with Bahía Concha, Playa Grande, Playa Granete, and many more.