The ultimate guide to eat & drink in Santa Marta city, Colombia.
By Greici Baquero
Edition & Translation by Citlali Flores
Welcome to Santa Marta! What a better way to start this experience than with a delicious colombian dish?  After so many hours on a bus or a long plane ride, you will definitely need to pamper yourself with the different varieties that this city has to offer.
Normally when you think about this destination, the first thing that goes to your mind is sea food and although we have a lot and delicious sea food, at this moment the city is offering a lot of options, the main reason is due to the foreigners who make this city as their home and they manage to bring with them different mixtures from all over the world, fusing them with the flavours of the Colombian Caribbean.
So here goes the list for that definitely every foodie in Colombia have to try:
Ouzo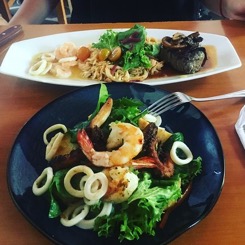 What better restaurant to start than this? Definitely your certificate of excellence on TripAdvisor is more than deserved, I recommend it for those nights where you want to enjoy a romantic dinner in the historic center of the city, its menu is based on Mediterranean food, delicious baked pizzas, desserts and traditional cocktails but with their personal touch and homemade sodas.
Price: $$$
Ambience: Elegant atmosphere
Address: Cra. 3 # 19-29, Santa Marta, Magdalena
Schedule: From M- S from 12-22: 30
Phone: (5) 4230658
2.-Radio burger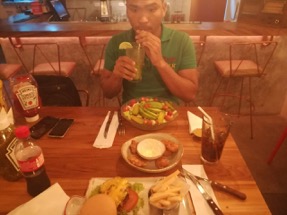 After finishing a little trek in the Sierra Nevada there is absolutely nothing better than recover energies with the best burgers in the city, this retro restaurant has one of the best customer services in the area, its working group are young people who are always attentive to please the customer, the specialty of the house are gourmet type hamburgers, homemade bread and daily fresh meat, refreshing drinks and if you are on a diet, do not worry! Their salads and vegetarian dishes are delicious and plentiful.
Tip: they have air conditioning but nice tables around the bride and groom's park.
Price: $$
Ambience: Retro restaurant
Address: Carrera 1 # 23-99, Santa Marta, Magdalena
Schedule: From M- S from 15pm  to 23 pm.
Phone: (5) 4204365
3.- Caribbean Team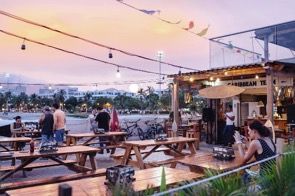 Lets talk about drinks! Santa Marta is highly proclaimed as the pearl of America being like that, it has one of the most beautiful and calm sunsets I have seen in my life, without doubts that Caribbean Team is the best option to enjoy it, gather your group of friends and enjoy the delicious bites, natural lemonades and cold beers that this place has to offer!
Tip: They sell some delicious palettes, do not forget to bring your sunglasses and a camera to see beautiful sunsets.
Price: $$
Atmosphere: beach pub
Address: Cra. 1c # 20134, Santa Marta, Magdalena
Schedule: From M- S 12 pm to  1 am
Phone: 319 2223476
4.- Donde Chucho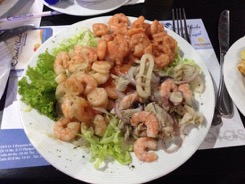 Santa Marta and the specialty of the house: sea food.
Impossible to be on the Caribbean coast and not go Donde Chucho, not only has a great reputation among locals, but its long experience, make this place one of the favorites to visit, by famous national and international celebrities.
They have several locations in the city, my favorite, which is located in the Parque de los Novios, one of the star dishes: Salmon al ajillo and shrimp cocktail, do not forget to order it with a delicious michelada!
Price: $$$
Ambiance: Elegant atmosphere
Address: Cl. 19 # 2 – 17, Santa Marta, Magdalena
Schedule: From M – S from 11 am  to 23 pm
Phone: (5) 4210861
5.- Alfaix
Alfaix is ​​the secret of locals, after a night out or before taking the bus to start your journey through the Tayrona Park, this is the place to recover or prepare. The portions are large, the Orange juice is natural and the place is indigenous to our region.
Tip: Breakfast is their specialty, and sundays have live music.
Price: $
Ambience: Local brunch atmosphere
Address: # 10- a, Cl. 9 # 1090, Santa Marta, Magdalena
Schedule: From M- S from 4 pm to 18pm
Phone: (5) 4318250
6.- Masaya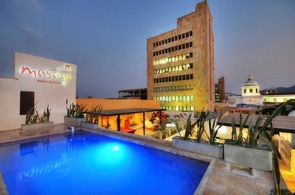 Sundays are beach or pool day in Santa Marta and Masaya has one of the pools with the best view of the historic center, beers, cocktails and natural juices, only pay the value of the ticket and enjoy live DJ with people from all over of the world!
Price: $$
Ambience: Pool party atmosphere
Address: Cl. 14 # 4 – 80, Santa Marta (Historical and Cultural Tourism District).
Phone: (5) 4395236
7.- Babaganoush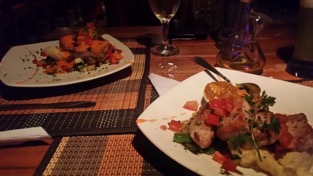 In the village of Taganga everything is magical, this place it is well known with the famous saying "get out if you can", one of the reasons is this restaurant with international asian speciality, hidden in small cabins with sun views and friendly local staff, this place can be reached by bus from Santa Marta only 15 minutes away.
The strength of this place is definitely the three-course dinner offered with: appetizer, main course and dessert, accompany it with a glass of wine or one of it's craft beers, this experience it's for sure you will enjoy the best dining experience in Taganga.
Tip: The best smoke soup in the whole city.
Price: $$$
Ambience: Beach restaurant
Address: Next to Tayrona Diving Center, Street 1C # 18-22, Taganga.
Schedule: Open from M- S from  13pm to 16pm  and 6:30 to 22: 30 pm
Phone: 318 8681476
8.- La Chatica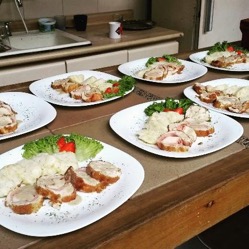 I could not miss the famous menu of  day in Colombia! If what you are looking for is economy, quality and a nice place to have the most typical lunch in the area,La Chatica will not disappoint you, their dishes combine local food with a gourmet style, lunch is their specialty.
Tip: Do not be surprised if you're the only foreigner in the place!
Price: $
Ambience: Local lunch
Address: Cl. 13 # 298, Santa Marta, Magdalena
9.- Crabs Bar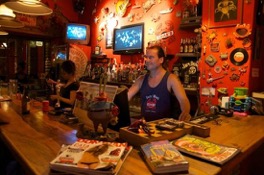 The rock & roll style is the king in this bar, and the best? The decor is amazing, they use bath tubs like chairs, they have autographed rock star disks, costumes, a pool table and a secret terrace! The hit of the bar are the pitchers of beer, 1 liter of beer that you can share among friends, or for the most daring, bet who finishes it first.
The owner is a well-known public figure in the area of ​​the city, talks with him are very interesting and full of musical culture.
Tip: If the hot wheater in the city is something that affects you, do not worry, this bar has an amazing air conditioning system!
Price: $$
Ambience: Rock Pub scene
Address: Cl. 18 # 3-69, Santa Marta, Magdalena
Schedule: Open from M- S from  20 pm to 3am
Phone: 315 7963636
10.- Lulo Café Bar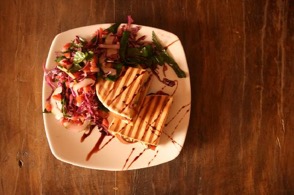 The healthiest option on the list and with one of the best ratings on TripAdvisor this restaurant is still positioned in Santa Marta as one of the best options to enjoy on a Saturday night, is located in the Callejón del Correo, one of the most beautiful streets of the city, where you can enjoy live music and delicious pitas, accompanied by organic juices.
Price: $$
Ambience: Café bar & restaurant
Address: Cra. 3 # 16-34, Santa Marta, Magdalena
Schedule: Open from M- S from 8am to 22pm
Phone: (5) 4232725
With this amazing list of restaurants, sit down at our table and enjoy as a local, the gastronomic flavors that Santa Marta has to offer!
Did you like what you read? Pin it to save it or share it with someone!